For Information on
Opening An Illinois Driving Record Account
Click the button below to get started.
It's quick and simple!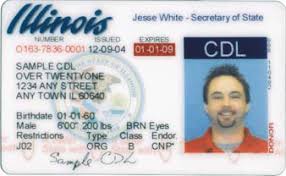 Illinois Driving License format
The format is one letter and eleven numbers. The format is coded;  however the code translation is not made available to the public
Renewal
Normal renewal is birthday of fourth year, except for drivers over 81 years of age (see below), or drivers under 21 (license expires three months after 21st birthday). Driver keeps same
• SSNs and most non-moving violations do not appear on the driving record.
• The state does permit driver school attendance in lieu of conviction.  Illinois has child restraint and seat-belt laws in effect. Illinois has a
system of "court supervision" that gives courts the discretion to substitute a requirement (e.g. additional fine, Traffic Safety School, time frame not to receive additional tickets, etc.) in a traffic case.
• Moving Violations: Four to four and one-half years from date of conviction (unless used for driver control action).
• Accidents: Four to four and one-half years, unless fatality involved then five years.
• DUI: Lifetime.
• Suspensions: Seven years from the termination date.
• Other Serious Convictions (any vehicle): Ten years past reinstatement date
• DUI, Leaving the Scene of Accident, Felony Convictions: Fiftyfive years past conviction date.
• Minor Convictions: Three years past conviction date.
• Accidents: Ten years past accident date.
• Withdrawal Actions: Fifty-five years past withdrawal date or three years past reinstatement date.
Average number of speeding tickets per day
CDL Driver's that Had Moving Violations (2011)
Number of Comm. MV involved in crashes (2011)
 T
raffic accidents are the result of driver error